Hearing the City in Early Modern Europe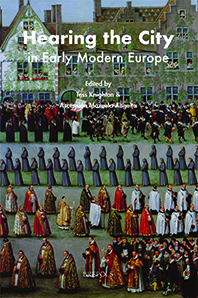 Tess Knighton & Ascension Mazuela-Anguita
« Epitome musical », 2018
Brepols.net



A major new contribution to the study and understanding of the soundscapes of the early modern city.

Hearing the City is a major new contribution to the field of urban musicology in the early modern period with twenty-one essays by leading figures in the field from Europe, the USA and Australia. The urban soundscape is studied from a range of different interdisciplinary perspectives, and its scope is broad, from the major role of city minstrels in fifteenth-century Viennese urban identity to the civic problems presented by the location of opera houses in Enlightenment Naples. The individual contributions explore themes related to the complex relationships between sound and space within the urban context and between social identity and civic authorities and draw on a wide range of source material from city pay documents and legislation to contemporaneous accounts, correspondence, travel writing, religious and moral tracts, fictional writing and architectural legacy. Aspects of urban soundscapes both specific and common to Naples, Rome, Palermo, Barcelona, Madrid, Valencia, Lisbon, London, Vienna, Hamburg and Zurich are analyzed in their broader socio-cultural contexts, as well as the dynamic networks between cities in Europe and beyond. These case studies are framed by Tim Carter's stimulating introduction to the development of historical urban sound studies and a coda in the form of a discussion as to how the results of urban musicology might be applied through a digital platform to reach beyond academic discourse to involve modern citizens in hearing the soundworlds of the past.


Tess Knighton is an ICREA Research Professor affiliated to the Institució Milà i Fontanals–CSIC in Barcelona. Her research focuses on court and urban musical culture in the early modern Iberian world. Her most recent publications include 'Els sons de Barcelona a l'edat moderna' (MUHBA, 2016) and 'Companion to Music in the Age of the Catholic Monarchs' (Brill, 2017). Ascensión Mazuela-Anguita is a Postdoctoral Fellow at the John W. Kluge Center of the Library of Congress in Washington, D.C.. Her research focuses on music books, women and music in urban festivities in the early modern Iberian world, and in Spanish folk music. Her publications include the monograph 'Artes de canto en el mundo ibérico renacentista' (SEdeM, 2014).